Accountancy and control/management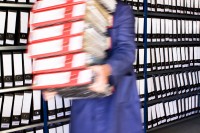 You are doing your accountancy or want to start doing yours, we are your partner to organise and fulfil your needs. We make things happen together. We can train your people and plan your continuity. In one word, your will be in safe hands when it concerns your accounting or order management.

We had a look on the market to solve our own accounting solutions. Together with our accountant we found an inexpensive and reliable solution. After several years we still have an excellent cooperation with Ciel. We still are a privileged partner (Ciel partner) for them.
Ciel, the sky is bleu for anyone